Taco Bell Cantina Steak Burrito
Taco Bell Cantina Steak Burrito - Just So-So
While my first love will forever be
curry
, I do have the occasional adulterous fling with Mexican and Chinese cuisine.
When I heard Taco Bell's
Cantina Steak Burrito
was now available "Nationwide," my passion for the dear
puta
was reignited.
On a cold, windy afternoon, I drove up to the nearest Taco Bell to fill my empty tank on Burritos.
Cantina Burrito comes in three kinds - Steak, Chicken and Veggie.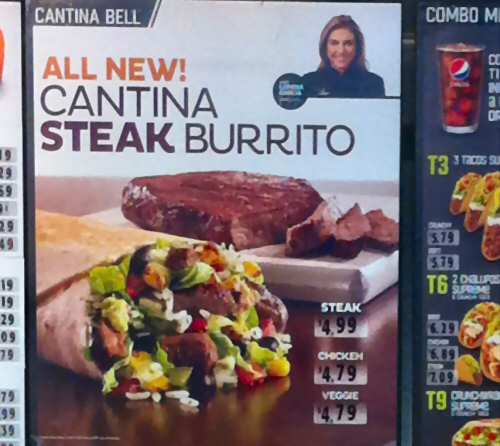 In a gluttonous mood, I asked for both
Cantina Steak Burrito
($4.99) and
Cantina Veggie Burrito
($4.79).
For the sides, my choices were
Nachos with Pico De Gallo
($1.49) and
Nachos with Guacamole
($1.49).
The ordering process was
not
smooth at Taco Bell but more on this irritation later.
My Burritos and sides were ready in about six minutes and came in a plastic bag.
Cantina Steak Burrito
Cantina Steak Burrito came neatly wrapped, but lukewarm.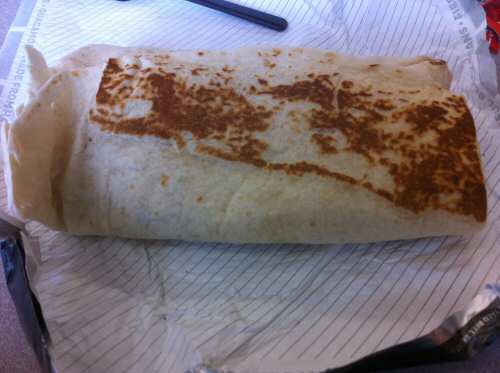 It looked big and bulky.
The Steak Burrito included Steak, Corn, Rice, Black Beans, Guacamole, Pico De Gallo, creamy Cilantro dressing and Lettuce.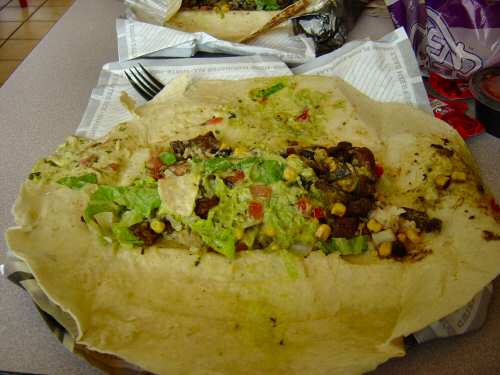 The serving size of the stuffing was decent, all wrapped in a big flour tortilla.
Our take on Cantina Steak Burrito:
* Sure, my Steak Burrito was a big and hefty but the taste was kind of ho-hum. Nothing to get excited about and not much different from the standard, boring Taco Bell Burrito taste.
* The outer flour tortilla was just lukewarm. I like my tortilla to be warm on a cold windy day.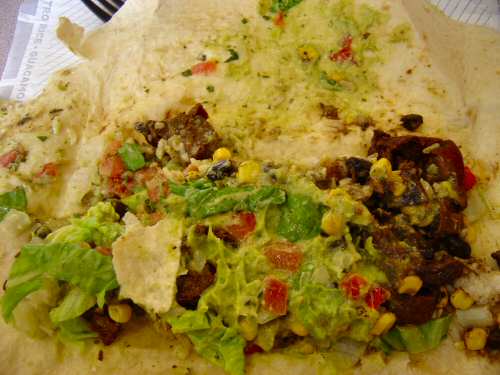 * The quantity of the stuffing was alright. Since the taste was not up to par, I added some Salsa to jazz it up.
* Cantina Steak Burrito Steak is filling and adequate for breakfast, and maybe even lunch if you're not the gluttonous,
Bakasura
kind like me.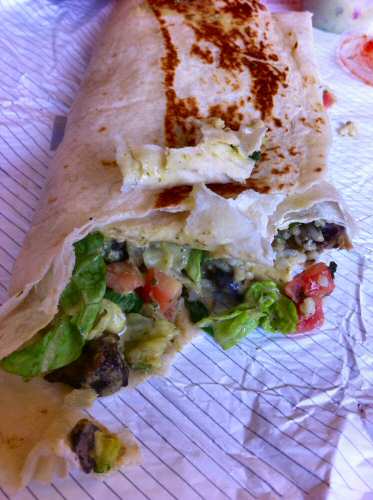 Cantina Steak Burrito - Nutrition Information
Serving Size (g) - 458
Calories - 780 (from Fat - 250)
Saturated Fat (g) - 7
Total Fat (g) - 28
Trans fat (g) - 0
Cholesterol (mg) - 50
Sodium (mg) - 1900
Carbohydrates (g) - 98
Dietary Fiber (g) - 13
Sugars (g) - 7
Protein (g) - 33
Cantina Burrito - Veggie
My Veggie Burrito also arrived neatly wrapped, but again barely lukewarm.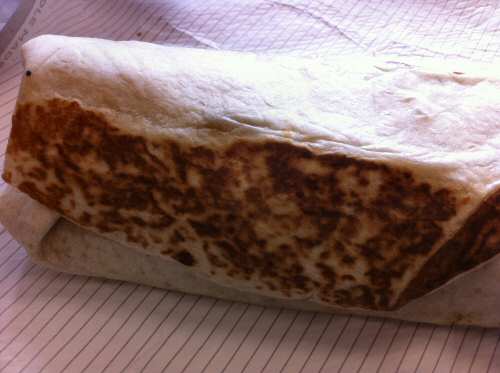 Veggie Burrito included Rice, Black Beans, Corn, Lettuce and Guacamole.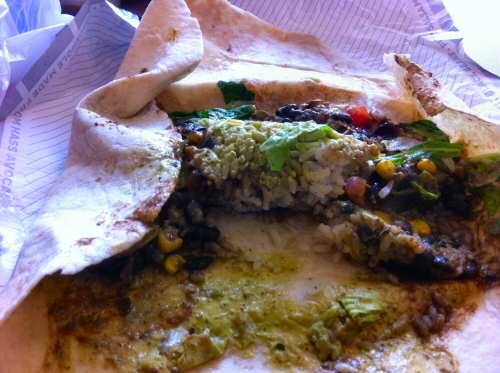 Although the Veggie Burrito stuffing was a bit tastier than the Steak Burrito, I was still compelled to add a dash of Salsa to make it more appealing to my spice hardened Indian palate.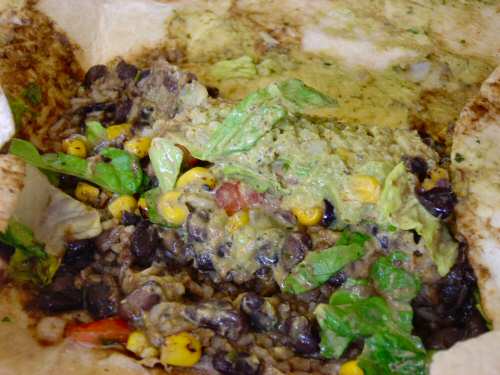 Egg in Cantina Veggie Burrito
Surprisingly, the Cantina Veggie Burrito includes Egg, a fact I was unaware of when ordering.
It was only later when I checked the Taco Bell web site for ingredients, I realized the Cantina Veggie Burrio includes Egg making me wonder when Egg became a Veggie.
So if you are a pure Indian vegetarian, I suggest you steer clear of all three Cantina Burritos.
Cantina Veggie Burrito - Nutrition Information
Serving Size (g) - 435
Calories - 740 (from Fat - 230)
Saturated Fat (g) - 5
Total Fat (g) - 26
Trans fat (g) - 0
Cholesterol (mg) - 10
Sodium (mg) - 1750
Carbohydrates (g) - 107
Dietary Fiber (g) - 17
Sugars (g) - 8
Protein (g) - 20
Cantina Burrito Allergens and Sensitivity
Both the Steak and Veggie Burritos include egg, milk, wheat, soybean oil and gluten ingredients that may not be appropriate for some people.
While Soybean oil is not marked as allergen, the Taco Bell web site clearly marked egg, milk and wheat as containing allergens. Also, gluten is marked as containing ingredient that may cause sensitivity.
Taco Bell Nachos, Guacamole, Salsa
Nachos were crisp, cold and came in a small serving.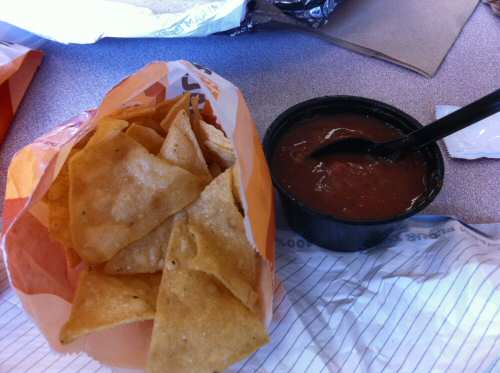 Salsa was at room temperature, slightly tangy and decent tasting.
But the Salsa was not Mexican restaurant quality decent.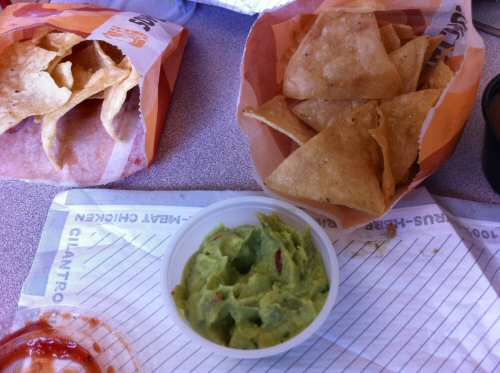 The Guacamole side, however, turned out to be horrid disaster, without any taste or flavor.
It was a green, guey chemical paste. :(
Easily, the worst Guacamole to land on my taste buds.
Taco Bell Order Mess ups
My order-taker at the Taco Bell counter was clueless about availability of Pico De Gallo and Guacamole sides.
Instead of Pico De Gallo side, she provided Salsa with my Nachos chips.
Also, there was no marking on my two Cantina Burritos to differentiate the Steak from the Veggie.
In the absence of any sticker or marking the Cantina Burritos, I was forced to unwrap the Burritos to figure out which one was a steak and veggie. She never asked me whether I wanted takeout or dine-in.
Cantina Burritos Verdict - No Big Deal
Like any Indian, I look at both taste and value-to-price ratio carefully when I dine out.
On both taste and value for money, the Cantina Burritos were
meh
.
One of our standard comparison points is a Chinese Buffet. At any Chinese Buffet restaurant in the U.S., you get
100+
items (including four varieties of ice creams) for $6.50. By that yardstick, the Cantina Steak Burrito was not good value for money.
I doubt the Cantina Burritos will remain high on my list for a quick takeout! - © DelawareIndia.com