Paradise Biryani Pointe Newark
Address:


Paradise Biryani Pointe

270 University Plaza, RT-273
Newark, DE 19702





Closed
Paradise Biryani Newark : Mediocre Biryani, Disappointing Mirchi Ka Salan
In our view, the acid test for any Indian restaurant is the humble Dal.
If an Indian restaurant can't get the humble Dal right, they're going to find it hard to get more complex food items right.
Paradise Biryani's Dal is a case in point.
The restaurant's Dal was utterly devoid of flavor that it felt like we were eating boiled lentils without any seasoning.
When an Indian restaurant serves such crappy food, they're subliminally begging you to show them the middle finger.
Like the horrid Dal, much of what we sampled at Paradise Biryani had an unappealing taste.
Paradise Biryani Pointe is located on RT-273 in the University Plaza and occupies the same spot as the now-closed
Chingaari
Indian/Pakistani restaurant.
There's no decor to speak of at Paradise Biryani Pointe and the food is served in plastic/paper plates.
| | |
| --- | --- |
| Spice-Less Chicken Biryani | Awful Veg. Biryani |
Paradise Biryani's Chicken Biryani failed at a very fundamental level.
Chicken Biryani was so
un-spicy
that we wondered if any chillies or Biryani spices had been used in its preparation.
Rarely have we consumed such a disappointing Biryani.
The Vegetable Biryani was no different.
Not spicy and with burnt masala paste buried in it, it had none of the divine Biryani flavor one expects from a good Biryani.
It was also a bit too dry for our tastebuds.
The fusillade of bad items showed no signs of slowing down.
We hit another pot-hole with the Capsicum Masala Vegetable Curry.
Capsicum was raw and had not been cooked properly.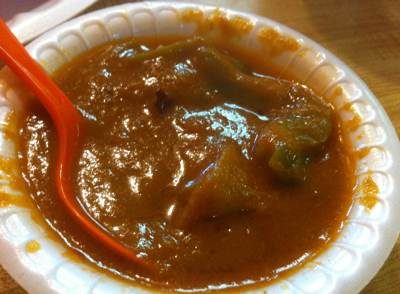 Bad Capsicum Curry
Chicken Curry was the least disappointing item.
With a few capsicum and boneless chicken pieces, it was one of the palatable items.
Again, it too could have used a few more chillies in its preparation.
The so un-spicy nature of the Biryani and the curries at Paradise Biryani Pointe left us scratching our heads in bafflement. What's wrong with these bozos?
To add insult to injury, the Rotis were a bit hard.
Disappointing Mirchi Ka Salan
When we placed our takeout order for Mirchi Ka Salan, the waiter asked if we wanted it spicy or medium.
Unhesitatingly, we responded spicy.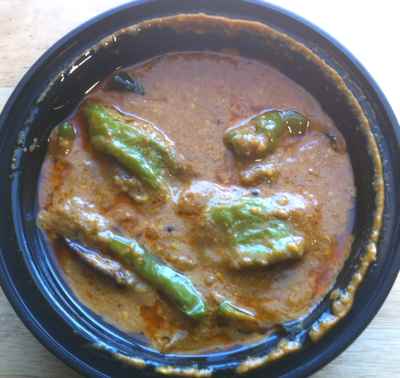 Salty Mirchi Ka Salon
Alas, our request fell on deaf ears and what came our way was underspiced but oversalted Mirchi Ka Salan.
For $9.99, we expected that plain Rice would accompany the entree.
But Rice was not included.
The serving size too is on the smaller side.
Expensive
Be it the entrees or the lunch specials, we felt Paradise Biryani Pointe was expensive for what it delivered.
Lunch specials at Paradise Biryani Pointe cost $7.99 (with Veg. Biryani)-$8.99 (with Chicken Biryani) on paper/plastic plates.
That is so ridiculous because for nearly the same price you can get an
All-You-Can-Eat-Buffet
at three nearby Kirkwood Highway Indian restaurants in Newark,
Taj Palace
($7.99),
Flavor of India
($8.99) or
Maharaja
($8.99)- on a week-day.
Also, a Buffet at
Maharaja, Taj Palace
and
Flavor of India
includes at least 10 or more items with one or two desserts.
Clearly, Paradise Biryani Pointe is not good value for money - failing on taste, failing on price and, as we explain below, failing on service.
Paradise Biryani - Poor Service
Service at Paradise Biryani leaves a lot to be desired.
The staff did not have any takeout menus and just one copy of dine-in-menu.
There was no drinking water to be found anywhere.
When we asked for water, our waiter indifferently pointed to a cooler and said, "Take."
Other diners too were perplexed over not finding water.
The waiters wore a sullen look as if they'd just returned from the burial ground after bidding goodbye to a close family member.
As we were pondering our disappointment with Paradise Biryani Pointe's food and service, a bizarre thing happened - one of the cooks came out of the kitchen, stood near the cash counter and loudly started singing
Ninaivo Oru Paravai
from the 1979 Tamil movie
Sigappu Rojakkal
starring Kamal Hassan.
If the live music was meant to entertain diners, it didn't succeed. For the cook's voice was not meant for crooning but for cawing.
Paradise Biryani Newark Rating - Disappointing
Overall, Paradise Biryani Pointe turned out to be a mighty big disappointment for us.
Unless Paradise Biryani can get its act together quickly, both in the kitchen and the dining room, it's likely to go the way of its predecessor
Chingaari
.
In other words,
bye-bye
. - ©
DelawareIndia.com