Delaware Indian Community News
Verandah Drops Anchor in Wilmington
March 28, 2019 - Delaware will soon get a new Indian street food restaurant in the form of
Verandah
.
The Chaat and Kabab place will open around April 18, 2019, at the new
DECO Food Hall
in the DuPont building in downtown Wilmington.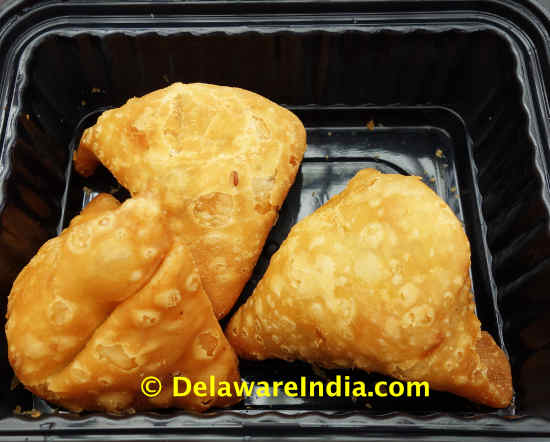 Verandah Wilmington is an offshoot of the eponymous Baltimore Indian restaurant run by Amit and Radhika Sule.
The new restaurant will be @ 10th St and Orange St in Wilmington, a block from Rodney Square.
Food @ Verandah
Besides various Chaats, you can expect to see samosas, parathas, beef and chicken kabab, wraps, salads and tikki masala on Verandah Wilmington's menu.
Going by the Baltimore menu of Verandah, you should expect to see chaats priced around $8-$9, meals around $13, and Tikka Masala for $13-$14.
Mango Lassi and ginger-mint lemonade are also likely to find a place on Verandah Wilmington's menu.
Downtown Wilmington is not a great place for Indian restaurants since the area does not attract a large crowd after 6PM.
Also, there's already a Chaat place just three blocks away on Market Street in the form of Masala Kitchen (only vegetarian food).
Besides Verandah, the DECO Food Hall, set to open April 18, 2019, will feature a Vietnamese place, a pizzeria, a pastry shop and a sushi place.
In recent weeks, Verandah has been advertising for line cooks and prep cooks for the Wilmington location.
Delaware now has 19 Indian restaurants/takeouts including the newly opened South Indian spot,
Rajni
, in Bear (@1247 Quintillo Dr (Governer's Sq II)).
*************************
Newark Meditation Center Owner Sachin Karnik Loses License
June 7, 2018 - In fresh trouble with law, Delaware Indian
Sachin Karnik
, owner of Psychotherapeutic Meditation Center in Newark, DE lost his license following criminal and ethical complaints alleging fraud and inappropriate conduct with a patient.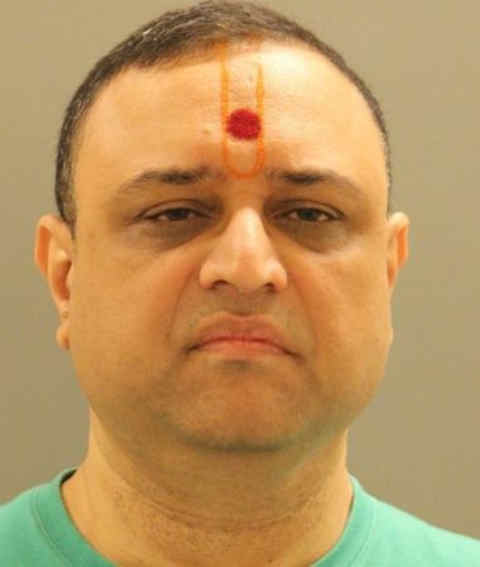 Prior Health Care Fraud
Sachin Karnik was arrested and he subsequently pleaded guilty in 2016 to one count of felony Health Care Fraud.
According to the 2016 healh care fraud plea:
Karnik, a licensed clinical social worker, admitted that, between November 1, 2005 and May 31, 2006, he engaged in a pattern of presenting fraudulent health care claims to Delaware Physicians Care, Inc., a managed care organization for Delaware Medicaid, by presenting false statements in support of claims for payment. Karnik's fraudulent scheme involved obtaining additional family information from his patients and falsely billing for counseling services not provided to the other family members. He also obtained additional names of Medicaid recipients and billed for counseling services not rendered.
The New Castle County Superior Court sentenced Karnik to four years of probation and to make restitution in the amount of $63,040.73 and $2,500.00 to Delaware Physicians Care Incorporated and Delaware Medicaid Fraud Control Unit respectively.
Fresh Trouble - License Suspension
Besides charging Sachin Karnik with health care fraud, Delaware Department of Justice also claimed in 2016 that Karnick lied about his background to obtain a license and his Ph.D came from a diploma mill and he disregarded instructions to stop referring to himself as a Ph.D.
Sachin Karnik has also been accused of engaging in a relationship between July and November of 2016 with a client who has a lengthy history of mental illness and hospitalization which the licensing boards found in March 2018 went well beyond ethical boundaries.
The Delaware Secretary of State suspended Sachin Karnik's chemical dependency counseling and license to practice clinical social work for five years based on a disciplinary review by Board of Clinical Social Work Examiners.
According to a March 2018 disciplinary review by the Delaware Board of Clinical Social Work Examiners:
...the relationship "violated appropriate boundaries to the point his professional judgment was impaired."

... affectionate and sexual text messages from the patient and her regular references to Karnick as her "guru"

..Karnick socialized with his patient without reporting those interactions, such as family meals and dates, on her treatment records.
Besides suspending Sachin Karnik's license for five years, Board of Clinical Social Work Examiners disciplinary review also recommended completion of 250 hours of continuing education in ethics and clinical documentation.
desis
in NYC and New Jersey, the somnolent Indian community in Delaware is organizing an
India Independence Day Parade
.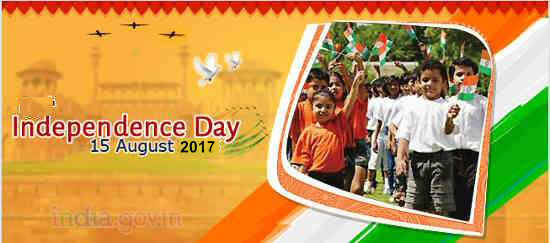 The parade is scheduled for Sunday, August 13, 2017 two days prior to the actual date of Indian independence day.
India Independence Day Parade will start 11AM at Hockessin Fire Hall and ends at Delaware Hindu Temple (760 Yorklyn Rd Hockessin).
There will be an Indian flag hoisting at 12PM followed by cultural programs both at the Hindu Temple.
Parking is bound to be tight at Delaware Hindu Temple because of the parade. So get there early.
*************************
IndiaFest
celebration is scheduled for Saturday August 19, 2017.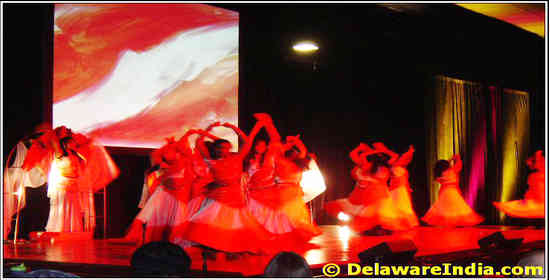 Organized by the Delaware Indian community, IndiaFest usually has a bunch of cultural programs performed by local kids along with a few booths selling trinkets, clothing, costume jewelry, Henna, DVDs and assorted stuff.
A popular highlight of IndiaFest is the Indian food sold by a few Indian restaurants.
You can be sure that this year too there will be some desi restaurants peddling Dum Biryani, Gobi Manchurian, Tandoori Chicken, Palak Paneer, naan bread and desserts.
Bhangra and Garba Night
Other highlights of IndiaFest 2017 program include
Bhangra and Garba Night
. But the Bhangra & Garba have been slotted for late evening, from 8:30PM-10PM.
If you plan on attending, India Fest 2017 will be held at the
Bob Carpenter Center
at the
University of Delaware
, 631 S.College Avenue, Newark, DE 19716.
Be aware that there's a
$5 admission fee
.
IndiaFest 2017 is scheduled from 11AM to 10PM.
*************************
Indigo Opens its Doors in Rehoboth
June 10, 2017 - Southern Delaware got its first Indian restaurant with
Indigo
opening its doors on June 9, 2017.
Indigo is set in the popular beach resort town of Rehoboth and primarily offers North Indian cuisine.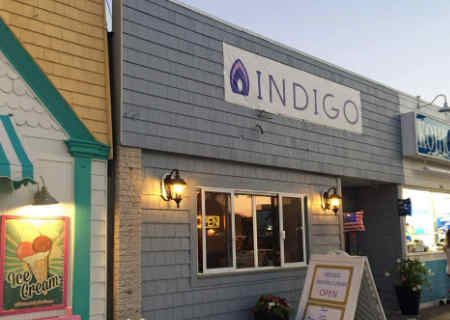 Unfortunately, Indigo does not seem to offer a Lunch Buffet, a fixture at most Delaware Indian restaurants.
Here's the $60,000 question: Can Indigo manage to pull in the crowds after the busy summer season ends at Rehoboth?
Visit Indigo web site:
https://www.indigorehoboth.com
Indigo
44 Rehoboth Avenue, Rehoboth Beach, DE 19971
Ph: 302-212-5220
*************************
Indian Restaurant Coming to Rehoboth
April 19, 2017 - In a few weeks, Rehoboth Beach in Sussex County will get its first Indian restaurant -
Indigo
.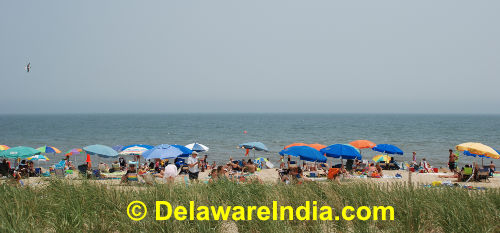 Indigo will offer a range of North Indian dishes including Tandoori Chicken, Butter Chicken, Garlic Naan, Chicken Tikka Masala, Dal Makhani, Baingan Barta, etc.
The menu is expected to feature a few South Indian items as well.
It's not clear if the new restaurtant will feature a lunch buffet.
Say what you want but an Indian restaurant without a lunch buffet is like Trump without his LIES. :)
Indigo will have a bar although it may not be ready when the restaurant opens in a few weeks (Target Date: Memorial Day).
Maryland Owners
Indigo is being set up by the owners of now closed India's restaurant in Annapolis (Maryland).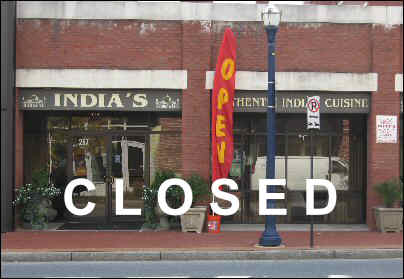 We have been to India's on several occasions.
Our experience at India's has been a mixed bag.
The old man (owner Suraj Kumar) is a friendly fellow, eager to help. But the younger servers have left us disappointed.
Indigo is coming up at 44 Rehoboth Ave (at the site of the former The Dough Roller pizza place).
We hope Indigo will bring fine Indian food and service to Rehoboth Beach.
May it be the first of many Indian restaurants to come up in Southern Delaware.
*************************
Indian Murdered for $20 During Daytime Robbery in Wilmington
January 11, 2017 - Two nut-jobs killed Santanu Kumar Muhuri, a 64-year old Indian, in Wilmington on January 9, 2017.
Owner of the small Lancaster Market store (at the corner of North Clayton St and Lancaster Avenue), Santanu Kumar was killed in a robbery that turned violent.
Santanu Kumar was shot in the head inside the store around 1PM on Monday, January 9.
Emergency medical crew treated the victim at the scene and then took him to the Christiana Hospital where he died at 1:40PM of his injuries.
Local residents described Santanu Kumar as a nice, friendly man who always had a "Hi" for his customers.
Media reports say that after shooting Santanu Kumar, his attackers stole $20 from the store.
14-Year Old Arrested
Police have arrested 14-year old kid Jakevis Ellington and 22-year old Devonte Dorsett in connection with Santanu Kumar's murder.
The two suspects have been charged with first-degree murder, first-degree robbery, possession of a firearm by a person prohibited and related counts.
Jakevis and Devonte are suspects and must be considered innocent until and unless a court finds them guilty.
The murder weapon, a .45-caliber gun, has been recovered.
Stay Away from Wilmington
Santanu Kumar is the second homicide victim in Wilmington in 2017.
Indians keen on avoiding poor Santanu Kumar's fate should stay away from downtown Wilmington at any time.
Wilmington has turned into a kind of war zone where innocent people are shot, stabbed, robbed and assaulted.
The local police has lost all control over downtown Wilmington and remain mute witness to the orgy of violence roiling the city.
Local residents refer to Wilmington as "Little Vietnam" because of the constant violence and frequent shootings.
*************************
Barely had the news sunk in among Indian food aficionados that
Nirvana
on Concord Pike had breathed its last than the bells pealed announcing the birth of a new desi restaurant.
Hyderabad House
opened its doors at 4621 Ogletown Stanton Road in Newark on October 29, 2016.
Biryani Specialists
Like the other new Indian restaurants (Godavari & Bawarchi Biryani) in Delaware, Hyderabad House specializes in Andhra/Telengana cuisine although it offers food from other parts of India as well.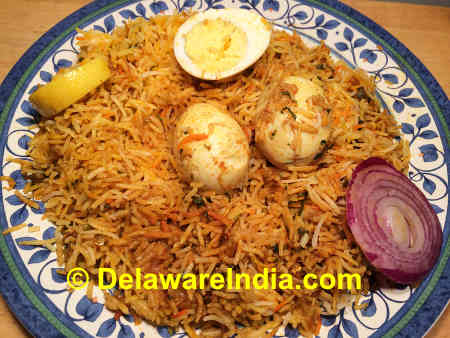 Several varieties of Biryani including Ulavacharu Chicken Biryani, Goat Dum Biryani, Egg Biryani, Paneer Biryani, Shrimp Fry Biryani, Lagani Chicken Biryani and Avakai Chicken Biryani are part of Hyderabad House's long menu.
A variety of North Indian curries and bread, and South Indian favorites like Idli, Masala Dosa and Medhu Vada are also available at Hyderabad House.
Hyderabad House Buffet
Hyderabad House offers a daily lunch buffet.
The weekday buffet is $10.99 while the weekend buffet is $13.99.
*************************
Nirvana Kisses the Dust
October 6, 2016 - Nirvana Indian restaurant located in Independence Mall on Concord Pike in Wilmington has shut down its doors.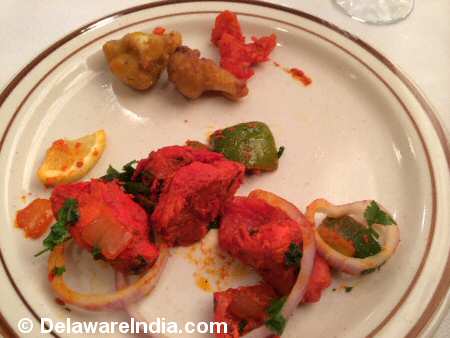 An all-you-can-eat lunch buffet with Groupon and Living Social deals for over two years and a decent location (on RT-202 in the Independence Mall) could not save this Indian restaurant.
Nirvana, which had been around for over a dozen years, served both North Indian and South Indian curries.
Crowded Scene
But Indian food lovers don't have to mourn the death of Nirvana.
There are far too many Indian restaurants in the First state serving lunch buffet, biryanis and street food like chaats etc.
By our count, there are still 24 Indian restaurants in Delaware including two in the state capital Dover.
Now comes the $64,000 question.
Is there a market for so many Indian restaurants when the existing ones even with lunch buffets and Groupon deals are failing.
The U.S. economy is still in a sluggish state and Americans are not eating out at ethnic restaurants as much as they used to.
One has to wait and see which Delaware Indian restaurant will close next.
Related Posts
Nirvana Wilmington: Traitor to Indian Cuisine
Wilmington Indian Restaurants
*************************
Taj Mahal Opens in Wilmington
August 9, 2016 - Delaware resident
Mohammed K. Alam
has opened the doors to his Indian restaurant
Taj Mahal
.
Located at 2314 Carpenter Station Road in Wilmington, Taj Mahal offers a Lunch buffet every day and a la carte dining in the evening.
Lunch buffet is $9.99 on weekdays and $10.99 on weekends.
Taj Mahals offers a combination of North Indian and South Indian dishes.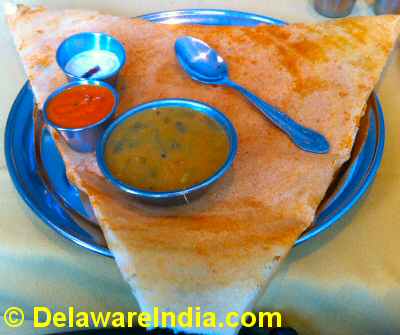 Idli and a variety of Dosas are available for dinner.
The new restaurants also undertakes catering for corporate and social events and has a party hall.
Competition is severe on the Indian dining front.
With the opening of Taj Mahal, Delaware now has 24 Indian restaurants.
**********************************
Indian Immigrant Arrested in Bensalem
May 11, 2016 - An unnamed Indian is among 84 criminal aliens arrested by
Immigration and Customs Enforcement's
Enforcement and Removal Operations during a weeklong operation in PA, DE and WV that concluded on May 7, 2016.
According to ICE, the unnamed Indian is a 30-year-old man with prior convictions for "corruption of minors." He was arrested in Bensalem, Pennsylvania, and remains in ICE custody pending a hearing before a federal immigration judge.
Besides the Indian national, the arrested individuals include nationals of Mexico, Uruguay, Kenya, El Salvador, Guatemala, Jamaica, Dominican Republic, Ecuador, Nicaragua, Argentina, Liberia, Honduras, Brazil, Ghana, Costa Rica, Papua New Guinea, Bosnia and Germany.
In all likelihood, the arrested individuals will be deported to their home countries.
ICE, which conducted 235,413 removals nationwide in fiscal year 2015, is aggressively targeting removal of people who have been convicted of a criminal offense.
**********************************
Bawarchi Biryani Point
is opening its doors on April 30, 2016 at the same location as the old Taj Palace.
30 Varieties of Biryani
The new restaurant's claim to fame is the 30 varieties of Biryani it intends to offer diners.
Some of the Biryanis you can expect to try at Bawarchi Biryani Point include Avakai....
Read More
*************************
Rasam
in a cozy booth at
Godavari
, the new South Indian restaurant on Kirkwood Highway in Wilmington, my thoughts drifted to a story I'd recently read,
The Country Husband
.
...Like the young woman from Normandy,
Godavari
is a strange combination of grandeur and the profane.
The Rasam, Bengaluru Bindi Pulusu and Chicken Curry I sampled at
Godavari
were glorious triumphs heralding an excellence seldom seen at Indian restaurants in Delaware.
But
Godavari
is also an egregious instance of sullied grandeur since it was marred by inexcusable mistakes.
I encountered grave disappointment in the lukewarm, under-flavored Chicken Dum Biryani....
Read More
*************************
Taj Palace
on Kirkwood Highway has passed away.
But fans of Indian cuisine don't have to mourn its loss.
Four more Indian restaurants are opening soon in Delaware....
Read More
*************************
Market Street
is one of the few safe havens from the daily shootings that have scarred downtown Wilmington in Delaware.
Restaurants, mobile phone stores, coffee shops,...
Read More
*************************
Jetalbhai Desai in Trouble
November 20, 2015 -
Westside Liquors
(719 W. Eighth Street in Wilmington) owner
Jetalbhai Desai
(40) is in a spot of trouble.
The
Delaware Department of Safety and Homeland Security
arrested Jetalbhai Desai Thursday, November 19, 2015, on charges of four counts of unauthorized trade of food stamps and distribution of loose cigarettes.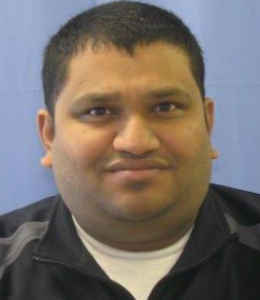 Illegal Activities
The Delaware Division of Alcohol and Tobacco Enforcement commenced investigation of Westside Liquors after receiving complaints about various illegal activities at the store.
After an undercover agent of the Division of Alcohol and Tobacco Enforcement was able to purchase loose cigarettes at the liquor store, agents of the division searched the store Thursday.
During a search of Jetalbhai's liquor store, agents of the Delaware Division of Alcohol and Tobacco Enforcement are said to have found several Electronic Benefit Transfer cards (food stamp cards) belonging to other people.
It appears that pins associated with the EBT cards were also found in the store.
Agents from the Delaware Division of Alcohol and Tobacco Enforcement have seized $2,568 from Jetalbhai's store.
Jetalbhai, who's from Bensalem (PA), has been released on a secured bond of $9,000.
Jetalbhai Desai must be presumed innocent until and unless convicted in a court of law.
*************************
Produce Junction Brings Indian Vegetables to Dover
November 18, 2015 - Delaware
desis
living in Kent and Sussex counties will be pleased to know that a variety of fresh Indian vegetables is now available in Dover.
A huge
Produce Junction
store has opened in Dover at the same location as the old Circuit City (across the steer from Dover Mall) on RT-13.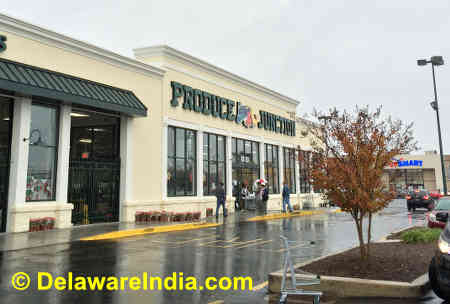 Indian Vegetables
Produce Junction
sells a variety of Indian vegetables and fruits You can get Karela (Indian Bitter Gourd), Doodhi (Bottle Gourd), Baingan (Indian Eggplant), Bangalore Brinjal (Chayote Squash), Cilantro, Ginger, Coconut, Onion, Potato, Spinach, Mango and Squash.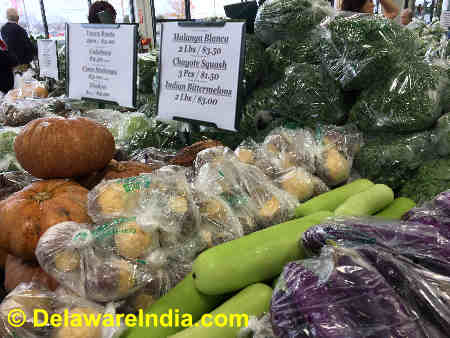 Mangos, peaches, roasted and salted peanuts are also available.
If you're in the mood to buy flowers for your loved one, there's a huge flower section at the store.
Cheap Prices
A huge plus of
Produce Junction
is that the prices are very cheap.
A big bag of Ginger costs just $1 and for $1.50 you can get two Coconuts.
The disadvantage of
Produce Junction
is that the store takes cash only and does not provide a receipt for purchases.
Just two months after opening,
Produce Junction
has already become very popular and gets crowded in the evenings. Head there during the afternoon if you want a less-crowded atmosphere.
Location
1350 N. Dupont Highway
Dover, DE 19901
Ph: 302-674-3080
Produce Junction Hours
Monday - Saturday: 8:00AM-6:00PM
Sunday: 8:00AM-5:00PM
*************************
Get Ready for IndiaFest 2015
Delaware's annual
IndiaFest
celebration is scheduled for August 29, 2015.
Organized by the Delaware Indian community, IndiaFest usually has a bunch of cultural programs performed by local kids along with a few booths selling trinkets, clothing, Henna, DVDs and assorted stuff.
A popular highlight of IndiaFest is the Indian food sold by a few Indian restaurants.
You can be sure that this year too there will be some desi restaurants peddling curries, naan bread and desserts.
Garba Nite
For the first time, the organizers are adding a
Garba Nite
to the program schedule. But the Garba has been slotted for late evening, from 8:30PM-10:30PM.
If you plan on attending, India Fest 2015 will be held at the
Bob Carpenter Center
at the
University of Delaware
, 631 S.College Avenue, Newark, DE 19716.
Be aware that there's a
$5 admission fee
.
IndiaFest 2015 is scheduled from 12 noon to 10:30PM.
*************************
Delaware India Day Parade 2015
July 20, 2015 - Following the practice of
desis
in NYC and New Jersey, the somnolent Indian community in Delaware is organizing an
India Independence Day Parade
.
The parade is scheduled for Saturday, August 15, 2015.
India Independence Day Parade will start 10AM at Delaware Hindu Temple (760 Yorklyn Rd Hockessin).
There will be an Indian flag hoisting followed by cultural programs both at the Hindu Temple.
Parking is bound to be tight at Delaware Hindu Temple because of the parade. So get there early.
*************************
DE Rewards Illegal Desis with Driver's License
July 1, 2015 - For all the Indian illegal immigrants in Delaware crying foul over the failure of the Obama administration to bless them with an amnesty, there's a consolation prize.
Come January 1, 2016, desi illegals (and undocumented workers of other nationalities too) in Delaware will be able to get a Driver's License.
The Driver's Licenses for illegal immigrants will be marked "Not Valid for Identification" and "Driving Privileges Only."
Applicants for the "illegals Driver's License" must submit proof of residence in Delaware for two years and get fingerprinted to get the license.
Delaware's political bodies (the Senate and House of Representatives) signed off on the legislation on June 30, 2015 and the "illegals Driver's License" bill has gone to Governor Jack Markell for his signature.Since Governor Markell is a strong supporter of granting Driver's License to undocumented immigrants in Delaware, he will sign the "illegals Driver's License" bill.
Delaware intends to spend $317,652 to launch the Driver's License for illegal immigrants program plus another $112,652 every year.
Indian Illegals in Delaware
Delaware has over 20,000 illegal immigrants of which at least a few thousand are Indians.
Boy, aren't all you illegal
desis
glad you live in the great state of Delaware where the state government spends nearly half a million dollars to assist law-breakers.
When you stop to think how Indians in India attack people from other states (Mumbai, Delhi and Bangalore have witnessed violence against 'outsider Indians'), you'll realize how generous Delaware is toward illegal immigrants.
With Delaware issuing Driver's License or so called "Privilege Cards" to illegal immigrants, we can be sure more Indians will be heading to the
First State
either for short or permanent stay.
Now thank your stars and chant
Jai Shri Ram
1,000-times!
*************************
3 New Indian Restaurants Hit Delaware
June 20, 2015 - The oversaturated Indian restaurants business in Delaware will see heightened competition with three new
desi
restaurants hitting the
First State
.
Prasad Matta's
Everest Indian Grocery
off Carpenter Road in Wilmington has added an Indian food section to the store.
Masala Dosa at
Everest Grocery
costs $6, Onion Pakora $2, Samosa Chaat $4 and Chicken Biryani is $8.
Tavva Indian Cafe
has opened on E.Main Street in Newark.
Tavva
offers a combination of North Indian and South Indian items including
Dum Biryani
. Here's a sample from Tavva's menu: Vegetable Pakora ($6), Mini Idly Sambar ($8), Samosa Chaat ($8), Dal Tadka($10), Vegetable Fried Rice ($10) and Boneless Chicken Biryani ($13).
Finally,
Masala Kitchen
is opening this summer in Wilmington's bustling Market Street.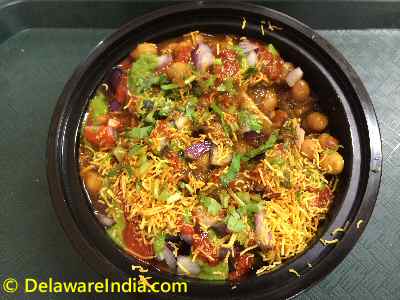 Peddling only vegetarian items and Chaats (Indian street food),
Masala Kitchen
has had a presence at the weekend New Castle Farmer's market for the last couple of years.
Including the three new Indian restaurants and the
Hindu Temple Canteen
in Hockessin, Delaware now has 22 Indian restaurants.
Sadly, most Indian restaurants in Delaware that we've tried offer unpalatable food.
*************************
South Indian Gas Station Worker Arrested
May 22, 2015 - Delaware State Police have arrested
Fnu Rajasekhar Kuram
, a South Indian worker at the Shell Gas Station at 1148 Christiana Rd, Newark, for allegedly touching a female customer inappropriately around midnight on May 22, 2015.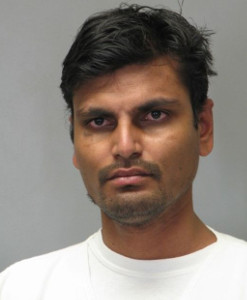 Delaware State Police said Rajasekhar followed a 21-year-old Philadelphia woman into the store's bathroom and asked her to expose herself to him.
Following the woman's refusal, Rajasekhar then inappropriately touched her, the police said.
After a brief struggle, the woman managed to break free and called 911.
The victim is said to have sustained a minor injury but declined medical treatment at the scene.
Charged with
Unlawful Sexual Contact 1st Degree
, Rajasekhar Kuram was arraigned at the Justice of the Peace Court 2 on Friday, May 22, 2015.
Rajasekhar has been committed to the Young Correctional Institution in Wilmington for lack of $5,000 secured bail.
*************************
Newark Indian Restaurant Damaged in Fire
January 11, 2015 -
Tandoori
Indian restaurant in the Meadowood Shopping Complex on Kirkwood Highway, Newark has been damaged in a fire Saturday, January 10, 2015.
The fire is said to have caused damage to the dining area and front of the Indian restaurant located at 2671 Kirkwood Hwy, Newark, DE 19711.
Fortunately, no one was injured in the fire.
Delaware fire investigators blamed the fire on a faulty kerosene heater in the restaurant.
Tandoori was closed when the fire broke out around 10 in the morning.
The fire is estimated to have caused damages of around $25,000.
Tandoori Restaurant is a fairly new restaurant with several popular Indian dishes like Tandoori Chicken, Tandoori Prawn, Tandoori Shrimp Masala, Tandoori bread, Fish Tikka, Mattar Paneer, Samosa Chaat, Bhel Puri and Mango Lassi on its menu.
The restaurant also served Indian-Chinese items like Chilli Chicken, Gobi Manchurian, Paneer Chilli etc and South Indian favorites like Masala Dosa and Idli.
Location Jinxed?
One wonders if the spot occupied by Tandoori Restaurant in the Meadowwood Shopping Complex is jinxed.
You see, three Indian restaurants (
Cafe Chettinad, Himalaya
and
Flavor of India
) that occupied the same spot as Tandoori have closed in the last 10 years.
Here's hoping Tandoori Restaurant will recover from this unfortunate mishap and open its doors soon again.
*************************
Mumbai Woman Dies in Delaware
October 2, 2014 - Mumbai tourist
Jyotsna Poojari
(43) died at the Christiana Hospital on Thursday following injuries she suffered in the September 21 bus crash in Delaware.
Jyotsna was the third person to die as a result of the crash that occurred near the exit ramp of 1 South and 13 North.
The bus was returning to New York City from a weekend trip to Washington DC when the Chinese bus driver lost control.
One person died at the scene and another at the hospital the same day.
Several others were injured and three are still in hospital.
*************************
Patel Employee Shot
A 66-year-old clerk working at
Cutrona's Liquors
at 4623 N Market Street, Wilmington was shot Thursday night during a robbery.
Emergency medical personnel rushed to the Patel-owned liquor store and moved the injured employee to Christiana Hospital.
Police say the employee's condition is NOT serious.
It seems a second employee of the store was beaten. He was taken to Wilmington Hospital.
Delaware Police have arrested a 16-year-old boy in connection with the assault and robbery and are looking for three others.
Ashok Patel
and
Navin Patel
are the owners of Cutrona's Liquors.
Second-Time Robbery
This is the second time Cutrona's Liquors has been robbed.
The store was robbed on December 31, 2008 but the criminals were quickly nabbed on that occasion.
Wilmington has witnessed a spate of shootings this year.
In May a report declared Wilmington the most dangerous small city in the U.S.
*************************
Delaware India Independence Day Parade 2014
August 5, 2014 - Following the practice of
desis
in New Jersey and New York, the somnolent Indian community in Delaware is organizing an
India Independence Day Parade
.
The parade is scheduled for Saturday, August 16 (one day after the actual Independence day).
India Day Parade will start at 11AM at Hockessin Firehall and end at Delaware Hindu Temple (760 Yorklyn Rd Hockessin).
There will be an Indian flag hoisting at 12PM and cultutal program at 1PM, both at the Hindu Temple.
Parking is bound to be tight at Delaware Hindu Temple because of the parade. So get there early.
*************************
Amtrak Jokers Leave Without 200 Passengers

An Amtrak Train to Washington DC Passing through
Metropark Station, New Jersey
August 4, 2014: In the U.S., the so called national railways
Amtrak
service is so horribly incompetent that a train recently left New York City
Penn Station
without the 200 ticketed passengers waiting to board the train for Washington DC.
The passengers were waiting on the platform to leave for Washington DC while the train left from a different platform.
The incident happened on the
Acela Express 2253
on Saturday, August 2, 2014 from NYC to Washington DC.
After the train left, the Amtrak buffoons at Penn Station in NYC tried to pacify irate passengers with pizza and Dorito chips.
Based on my experience traveling on Amtrak, the staff are unforgivably rude and the expensive, crappy train service deserves to be shut down.
I don't know why we are squandering tax payer subsidies on these Amtrak chimps.
Folks, the next time you're looking to travel to DC or NYC from Wilminton, don't even think of booking your ticket on Amtrak.
Take the plane or the
Chinatown bus
.
*************************
Sikhs to Feed 150 in Wilmington
August 1, 2014: The Sikh community in Delaware plans to offer a meal to about 150 homeless people in Wilmington on Saturday August 2, 2014.
The location is at the intersection of French St and Lombard St in Wilmington.
The free meal will be served at 2PM.
Delaware Sikhs are organizing the free meal to mark the second anniversary of the shooting of Sikhs at Oak Creek, Wisconsin Gurdwara.
Six Sikhs were killed and four wounded in the attack on Wisconsin Gurdwara.
Catholics and Muslims will join the Delaware Sikh community in serving the free meals to the homeless in Wilmington.
*************************
Rahul Patel in Deep Trouble
July 27, 2014 -
Delaware State Police
say Newark resident
Rahul Patel
was driving drunk on the night of July 26, 2014 when he struck a bicyclist on RT-273.
The adult male bicyclist, who has not been named, died on the spot.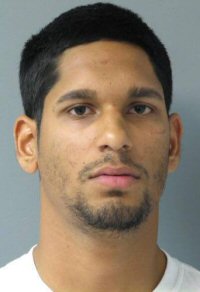 Rahul A. Patel
Since Rahul was wearing a seat belt, he was not injured.
Delaware State Police have charged Rahul with Vehicular Homicide and related charges in connection with the cyclist's death.
Rahul is being held at
Howard R. Young Correctional Institution
on E.12th St in Wilmington, Delaware on $20,500 Cash Bond.
Rahul Patel is 21-years-old (Date of Birth: 4/7/1993).
Incident Details:
Here's an excerpt from the Delaware State Police statement on the incident involving Rahul:
Preliminary investigation indicates that the crash occurred on Saturday, July 26, 2014 at approximately 8:30 p.m. as a 2003 Honda Accord operated by Rahul A. Patel-21 of Newark, Delaware was traveling at a high rate of speed on westbound Ogletown Road (DE-273) approaching the Ruthar Drive intersection. Patel lost control of the Honda which traveled off of the roadway onto the center median, rotating counter-clockwise, and continuing into the intersection. The passenger side of the Honda struck an adult male bicyclist who was traveling through the intersection in a northerly direction, attempting to cross Ogletown Road.

The male bicyclist suffered multiple traumatic injuries and was pronounced dead at the scene.
*************************
New Indian Restaurant Coming in Wilmington
July 24, 2014 - An Indian restaurant offering Dosas, Biryani and a choice of curries is scheduled to open in a couple of months.
The restaurant will come up in Wilmington on Carpenter Station Rd adjacent to a Turkish Halal takeout place that also serves Samosas.
Wilmington already has four Indian restaurants -
India Grille
(Naaman's Rd),
Nirvana
(RT-202),
India Palace
(RT-4) and
Bawarchi
(RT-202).
It's not clear if the new Wilmington Indian restaurant will offer lunch buffets.
Delaware Indian restaurants that do not offer a lunch buffet find it difficult to attract diners.
Expect the still-unnamed restaurant to be up and running by September/October 2014.