Kebab Joints in Newark, Dover & Wilmington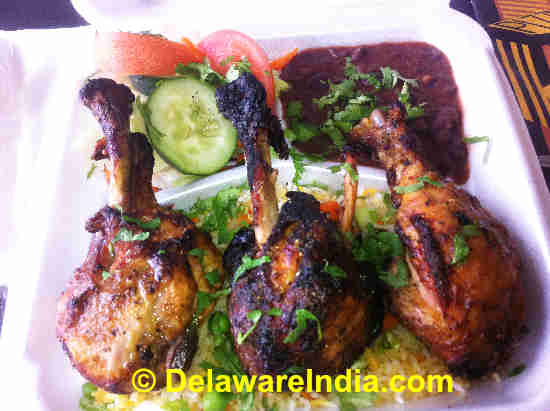 Kebabs in Delaware
Delaware fans of Indian and Middle Eastern cuisine have swooned over
Kebabs / Kababs
for several years now.
Kebab is a centuries-old flavorful dish of skewered and grilled pieces of meat or seafood, together with vegetables such as onions, tomatoes, and bell peppers.
Traditionally prepated on a grill or skewer, Kebabs are popular Middle Eastern, Turkish and Indian street food item.
Like the flavorful Biryani rice dish, Kebabs are made popular by the Moghul cuisine in North India.
Kebabs Varieties
Though kebabs are typically prepared with lamb, other varieties include beef, goat, chicken, fish, and sometimes even pork.
Some of the poular types of Kebab peddled by Middle Eastern and Indian restaurants are Doner Kebab, Shish Kebab, Kakori kebab, Shami kebab, Kacche gosht ke chapli kebab, Sambhali kebab, Reshmi kebab Lasoni kebab, chicken malai kebab, tikka kebab, tangdi kebab, hariali chicken kebab, tajpooti soolah.
In Delaware, you can get an opportunity to taste Kebabs in Newark, Wilmington, Dover and Smyrna.
Kebabs in Delaware are offered by both Lebanese, Halal, Middle Eastern, Pakistani and Indian restaurants.
Kebabs in Delaware are served as an appetizer, entree and as wraps and rolls.
Here are few Indian, Middle Eastern and Halal restaurants serving Kebabs / Kababs in Delaware:
Halal & Middle Eastern

Kabab on Wheels

1401 N. Dupont Hwy
New Castle, DE 19720


Phone: 302-565-9868

Chicken, Beef & Lamb Kababs



Oasis

11 Salem Village Sq
Newark, DE 19713


Phone: 302-533-6152

Chicken & Kafta Kebabs



Gyro Kabob House

1142 Chirstiana Rd
Newark, DE 19713


Phone: 302-368-7777




Gyro King

4130 Ogletown Stanton Rd
Newark, DE 19713


Phone: 302-737-7744




Lasani Halal

18 Marrows Rd (@ Rt 4)
Newark, DE 19713



Olive Tree Café

13 Chestnut Hill Plz
Newark, DE 19713


Phone: 302-266-4598

Beef & Lamb Kebabs



Ali Baba

175 E Main St
Newark, DE 19711


Phone: 302-738-1111

Kebab Wraps



Dari Kabab & Gyro

310 N Main St
Smyrna, DE 19977


Phone: 302-389-6209





Indian Restaurants

Kabab Korner

706-A N Dupont Hwy
Dover, DE 199012
Tangri Kebob



Tandoori

2671 Kirkwood Hwy
Newark, DE 19711


Phone: 302-369-3993

Chicken Seekh Kabab



Indian Sizzler

72 E. Main Street
Newark, DE 19702


Phone: 302-738-3445

Shish & Malai Kabab & Chicken Kabab Roll



Bawarchi

2909-1/2 Concord Pike
Wilmington, DE 19803


Phone: 302-478-3765

Malai Tikka Kebabs



Star of India

1710A Newport Gap Pike
Wilmington, DE 19808


Phone: 302-999-0855

Seekh Kebab



Palace of Asia

3421 Kirkwood Highway
Wilmington, DE 19808


Phone: 302-994-9200

Malai Chicken Kabab


Delaware Indian Food