Maharaja Newark Indian Restaurant
Maharaja Newark: Deport the Charlatans
After an utter travesty of an Indian meal at
Maharaja
on Kirkwood Hwy in Newark (DE), I concluded the fitting punishment for these incompetent dolts is to get
ICE
to deport the entire kitchen and dining room staff back to the <
incredible shithole
a.k.a. India on the grounds of horrific cruelty to fellow humans.
You know we really ought to be careful as to the kind of wannabe Indian cooks we let into America.
I don't know how picky you are but charlatans just don't cut it for me when it comes to my Indian food.
The food doled out by Maharaja is so spiceless and tasteless that I'd not be surprised if these jokers previously plied their trade as roadside barbers in some dusty Indian village.
After all, they did shave me off my money!
The magic of Indian cuisine lies in its spicy, palate tingling food. Indian food devoid of spices is like Pamela Anderson without those magnificent
tatas
or Bill Clinton without his infamous cigars.
Pointless, right?
I am no stranger to Maharaja's fake Indian curries. For I have dined at Maharaja on multiple occasions, each visit yielding more pain.
Since the milk of kindness oozes out of every pore of my body, I decided to give Maharaja one more opportunity to redeem itself.
Alas! some Indian restaurants are like some people - Incorrigible recidivists. They exist only to bamboozle others.
Maharaja Lunch
Like most Indian restaurants in Wilmington and Newark, Maharaja lays out a buffet for Lunch.
Sadly, the spread is neither lavish nor unique.
During my recent weekday visit, lunch included usual Indian suspects like Tandoori Chicken, Masala Idli, Samosa, Chicken Tikka Masala, Chicken Curry, Mutter Paneer, Saag Corn, Dal, Vegetable Rice, White Rice, Naan Bread, Gulab Jamun and Rice Kheer.
Alas, very little of the food was fit to be placed in front of paying customers.
Appetizers
It's hard to think of an Indian buffet without Tandoori Chicken and Maharaja dutifully had it on their buffet.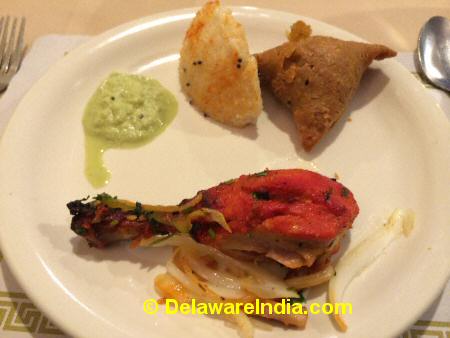 Tandoori Chicken (bottom) Masala Idli (top) Samosa (right)
Tandoori Chicken came with the same ugly red food color and the same mediocre taste I've encountered at countless Indian restaurants on the East Coast.
It had a slightly smoky flavor but was miserably lacking in the marination department.
Masala Idli was flavorless and to add insult to injury was lukewarm.
The accompanying chutney was cold, refrigerator-cold, and hopelessly bland. I wondered if Maharaja's kitchen ran out of green chilli.
Hey, if you're too lazy to make fresh and spicy Chutney, then the Indian restaurant business is not for you.
Sambar was a watery, flavorless mush I wouldn't offer to cats, dogs, hogs or my worst Republican enemies.
Samosa was not exceptional but one of the better items of the day.
Piping hot, it packed a well fried outer layer and the mashed potato stuffing inside was alright.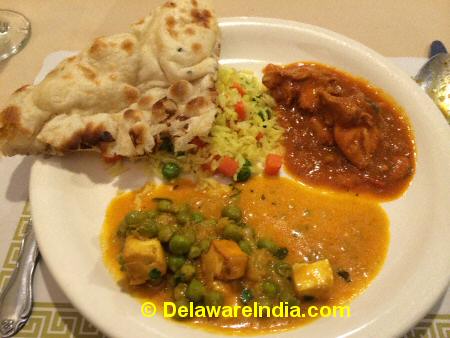 Chicken Curry (right) Mutter Paneer (bottom)
Vegetable Rice, Naan (top)
Entrees
Chicken Curry was a bit watery and way, way too bland.
Believe me, dear reader! If any spices or chillies had gone into the preparation of the Chicken Curry, it must be merely in the addled imagination of the hare-brained cook, who ought to be escorted pronto to the Philly airport with a one-way ticket to Mumbai.
Mutter Panneer had been given the reheating treatment but badly so because some portions were hot and others lukewarm.
Also the curry was too watery and it felt like I was eating boiled green peas and paneer cubes flung into brown color water.
Vegetable Rice turned out to be a flavorless abomination, nothing but a medley of boiled diced carrots and green peas mixed with turmeric powder or yellow food color.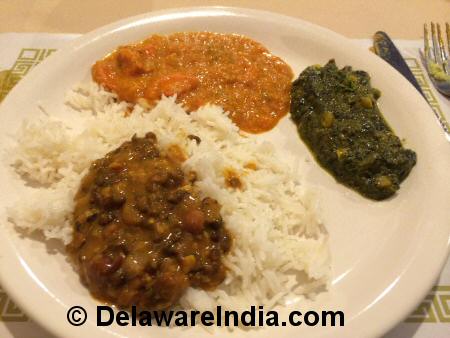 Chicken Tikka Masala (top) Dal (bottom) Saag (right)
Chicken Tikka Masala in a medium thick tasteless gravy was so-so. Not outstanding and not outrageously bad.
I was disappointed it lacked the slight tanginess that invariably accompanies a good Chicken Tikka Masala.
Saag Corn packed zero flavor, just a medley of corn and spinach dished out by a disinterested chef.
What about Dal?
Another egregious insult to my Indian palate. Just finely cooked lentils and red beans minus any semblance of taste.
If you love lentils a.k.a Dal like me, I recommend the nearby
Lasani Halal
Indian restaurant off Rt 4 in Newark.
Naan bread was thrown in a heap at the buffet table. Classy Indian restaurants offer, fresh off the Tandoor Naan bread at the table.
But then class and Maharaja are antipodes.
Desserts - Punishment
During my visit, there were two desserts - Gulab Jamun and Rice Kheer.
Gulab Jamun balls were slightly overfried but the texture was alright - neither too soft nor too hard.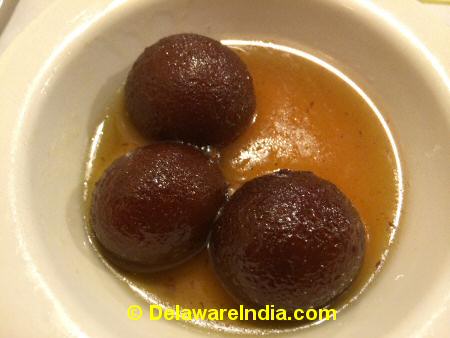 Gulab Jamun
Sadly, the syrup did not come with Cardamom seasoning, which adds enormous flavor to the combination.
Also, I'm distressed that 99% of Indian restaurants include only Gulab Jamun in lunch buffets.
Seriously, there are a million other alternatives (e.g. Badam Peda, Sandesh, ChumChum, Mysore Pak, Gajar Halwa etc).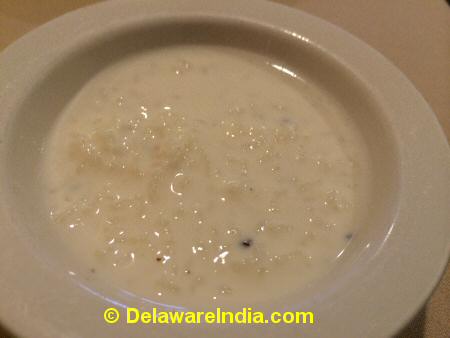 Rice Kheer
Rice Kheer was low on sweetness, the milk too watery and above all hopelessly low on flavor.
To describe Maharaja's Rice Kheer as an atrocity would be a kind gesture.
Whoever prepared that Rice Kheer must have served as a Nazi guard at Auschwitz in a previous life, determined to inflict grievous injury on innocent souls.
Service - Ho Hum
As with 90% of Indian restaurants, Maharaja's waiters think it's a cardinal sin to smile at diners.
When I entered, the South Asian waiter gave me the same quizzical look I've endured at dozens of Indian restaurants.
The look that screams, "
Who are You? What do You want? Why are You disturbing Me
?"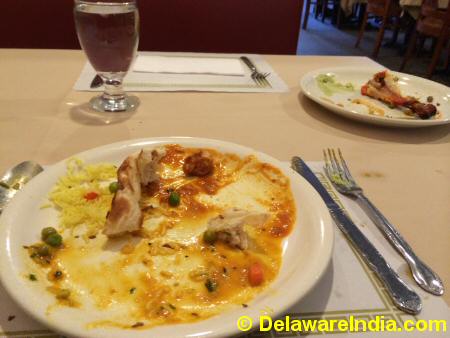 Used Plates Pile Up
The two waiters on duty stood like sentinels at the cash counter chewing the cud even as my finished plates begged to be taken off the table.
Given its hopeless kitchen and mostly inedible food, Maharaja has little reason to exist. But it exists because Americans are clueless about good, authentic Indian food.
Having given Maharaja enough chances to redeem itself, and with the restaurant repeatedly getting failing grades, I shall now call the immigration authorities and ask them to deport these repeat offenders forthwith to India on the grounds of hideous, monstrous cruelty to fellow Indians. - ©
DelawareIndia.com