Nirvana Wilmington Indian Restaurant
Nirvana Wilmington: Traitor to Indian Cuisine
Not since the Obama presidency - with its endless disappointments - have I felt so let down.
I headed for
Nirvana
Indian restaurant in Wilmington nourishing grand hopes of a fulfilling meal, only to retreat in anguish at the numerous slings that came my way.
What is it about Indian restaurants in Delaware that make them so inconsistent?
I had been to
Nirvana
on RT-202 multiple times in the past decade. Despite a few slips here and there I found the restaurant providing good value for money and satisfaction to my demanding Indian palate.
Alas
, not anymore.
My recent visit to
Nirvana
proved to be an extremely dissatisfying experience.
Missing Tandoori Chicken
Tandoori Chicken used to be one of my favorite items at Nirvana Wilmington.
But much to my dismay, Tandoori Chicken was missing during a recent weekend trip to the restaurant.
A weekend buffet (priced at
$13.99
) without the big, inviting chunks of Tandoori Chicken is plain daylight robbery.
Looks like Nirvana is engaging in cost-cutting on the backs of paying diners?
Is Big Corporation greed walking down to Small Business levels now?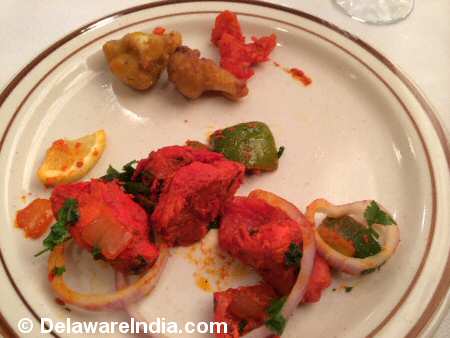 Chicken Tikka
Instead, what I found were small Chicken Tikka pieces smeared with the loathsome reddish-orange food color.
Chicken Tikka included some green peppers and sliced onions but the weird color was so off putting.
Edible but most certainly not palatable!
Cold Gobi Pakora
Gobi Pakora was the sole vegetarian appetizer during my visit.
Pakoras were cold and came in two varieties - plain and the other with that ugly red-orange color.
Gobi Pakora was not in the least bit spicy. However, the flavorful green chutney compensated for the lack of spice and taste.
Idly Minus Sambar and Chutney
Idly, a South Indian favorite, is usually served with Sambar, Coconut Chutney and
Milagai Podi
.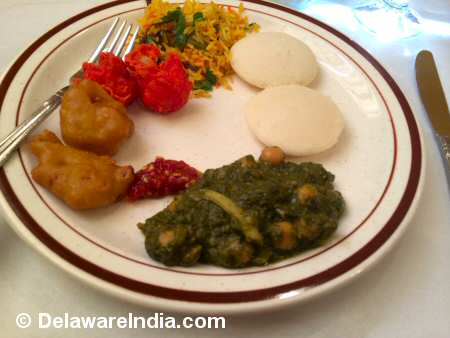 Idly (top right), Gobi Pakora (top left)
No Indian restaurant in its right mind would serve Idly without Sambar.
But not at Nirvana Indian restaurant in Wilmington.
Nirvana's Idly was small, thin and did not come with either Sambar or Coconut Chutney.
It was soft but cold.
In the absence of Sambar and Coconut Chutney, the cold Idly did not endear itself to my tastebuds.
Vegetable Soup
Some relief came in the form of Vegetable Soup.
Vegetable Soup was warm though I prefer it piping hot on a cold winter day.
It was slightly tangy and true to its name included lots of vegetables.
Chicken Items
Besides the ugly red-orange Chicken Tikka, other Chicken entrees during my visit included Chicken Shahi Biryani and Butter Chicken.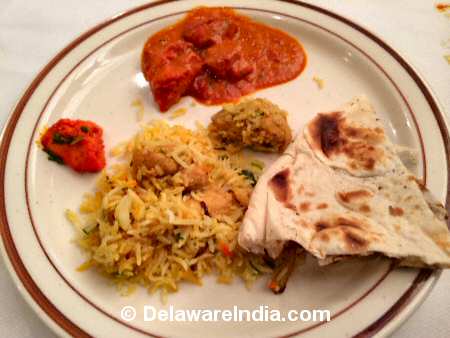 Butter Chicken (top), Chicken Biryani (bottom left), Naan
I did not find anything
Shahi
or
Royal
about the Chicken Shahi Biryani peddled by Nirvana in Wilmington.
Chicken Biryani served at crappy Bangladeshi restaurants in Jackson Heights (NYC) is far spicier and tastier than Nirvana's travesty.
It tasted like boiled Chicken pieces mixed with Basmati rice with a wee bit of Biryani masala flung into it.
Butter Chicken was expectedly creamy but lacked flavor. Something had gone awry in its preparation.
Vegetarian Items
Vegetarian entrees included Dal Makhani, Saag Channa, Cabbage Fry, Mixed Vegetable Curry and Mixed Vegetable Biryani.
Dal Makhani was nothing but finely cooked lentils devoid of any taste or flavor.
I still can't fathom why most Indian restaurants give Dal the step-motherly treatment.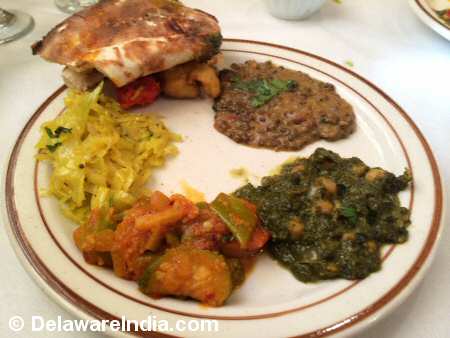 Dal Makhani (top right), Cabbage (middle left),
Mixed Veg Curry, Saag Channa (bottom)
If you love Dal Makhani like me,
Lasani Halal
in Newark, DE is the place to go.
With minimal seasoning, Cabbage Fry was smelly, oily and easily one of the worst Cabbage entrees to land on my tastebuds.
When Nirvana's Mixed Vegetable Curry turned out to be a sour disaster, I could only conclude that
Satan's
minions were working overtime.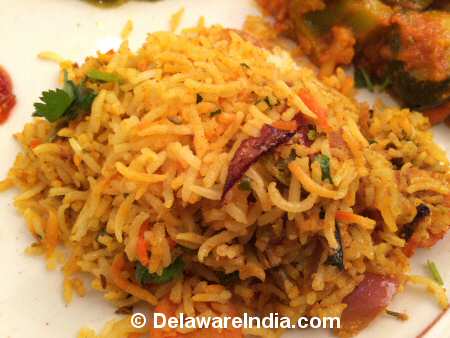 Horridly Spicy Veg Biryani
Mixed Vegetable Biryani was insanely spicy and quickly had water gushing out of my eyes and nose.
I have not the least doubt that the chef goofed up big time, throwing all the chillies into the Mixed Vegetable Biryani while completely forgetting about the Chicken Biryani.
Although it was obscenely hot even for my spice-hardened Indian palate, I'll take a spicy dish any day.
If I have learned anything from Bill Clinton's life, it's that life without some spice is meaningless!
Saag Channa was relished, one of the few palatable items of my otherwise abominable meal at Nirvana Wilmington.
It was reasonably flavorful, and mercifully did not come packed with the raw spinach taste that I often encounter at many Indian restaurants.
Naan Bread was rubbery, cold and dumped in a heap at the buffet station.
Fine Indian restaurants always serve Naan Bread fresh at the table.
But the lazy slobs at Nirvana couldn't be bothered to do the right thing.
Desserts - Atrocious
If you cannot put out a decent Gulab Jamun, you don't deserve to stay in the Indian restaurants business.
You see, Gulab Jamun is a most common Indian dessert. What bread pudding is to America, Gulab Jamun is to India.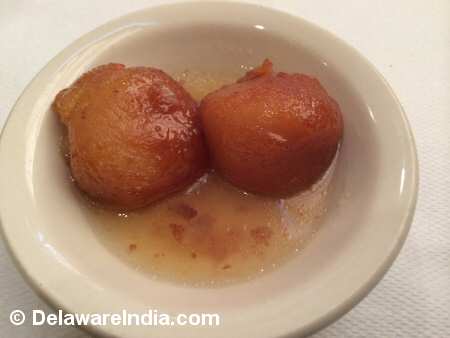 Soggy Gulab Jamun
Nirvana's Gulab Jamuns were beyond awful.
A cold, soggy mess, it surely must be the work of a depraved barber learning his trade in an Indian kitchen at the expense of paying diners.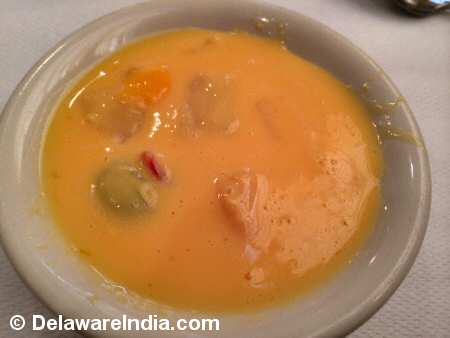 Fruit Custard
Fruit Custard was way too low on sugar and watery.
Service
It was nice to notice that tables and dining plates were clean.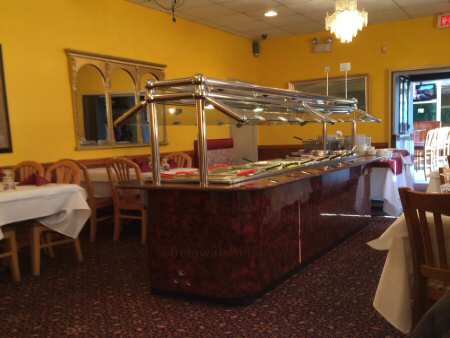 But the dining room was a bit cramped with the buffet station in the middle.
When a large group sat down to my left, I had difficulty moving from my seat.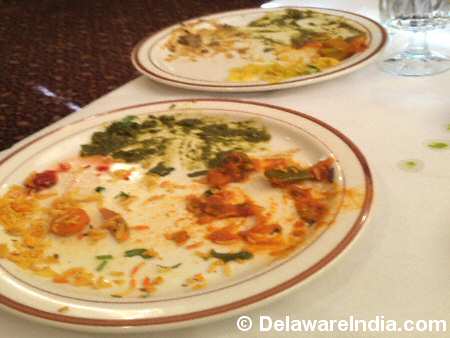 Used Plates Pile Up
Also, used plates were not cleared promptly and piled up on the table.
Nirvana Wilmington - Rating
Of the 12 or so lunch items I tasted at Nirvana, few were palatable.
The rest were not worthy enough to be placed before paying customers.
Bottom Line
- Quality of food at
Nirvana
has gone to the dogs since my last visit and the restaurant no longer provides good value for money. - ©
DelawareIndia.com