Godavari Wilmington Indian Restaurant
Address:


Godavari

3615 Kirkwood Hwy
Wilmington, DE 19808
Godavari Wilmington Review: Sullied Grandeur
As I sat sipping the divine
Rasam
in a cozy booth at the new South Indian restaurant
Godavari
, my thoughts drifted to
The Country Husband
, a story I'd recently read.
Soothed by the hot
Rasam
, my mind flew over Normandy (France) at the end of World War II seeing through Francis Weed's eyes the trial of a young woman at the village crossroads.
Surrounded by jeering women and hostile men, the collaborator has her hair cut by shears, head shaved bald and then stripped of all her clothes. That is the punishment for her crime of living with the German Commandant during the Nazi Occupation.
Stripped of all dignity, the teary woman leaves the village.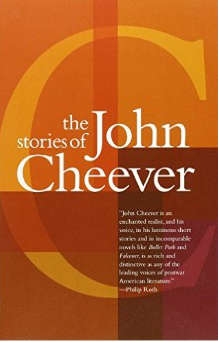 Sullied Grandeur
Her abject humiliation and difficult ordeal notwithstanding, Francis found "some inviolable grandeur in the woman's nakedness."
The Country Husband
is one of John Cheever's finest pieces and if you're the kind to seek comfort and solace in good literature, I promise you'll love it.
Like the young woman from Normandy,
Godavari
is a strange combination of grandeur and the profane.
The Rasam, Bengaluru Bendi Pulusu and Chicken Curry I sampled at
Godavari
were glorious triumphs, heralding an excellence seldom seen at Indian restaurants in Delaware.
But
Godavari
is also an egregious instance of sullied grandeur since it was marred by inexcusable pitfalls.
I encountered grave disappointment in the lukewarm, under-flavored Chicken Dum Biryani and Vegetable Dum Biryani and underwhelming service overall.
Forcing diners to use styrofoam cups for the extremely hot Rasam, Sambar, Masala Chai and Payasam is
so disgusting
.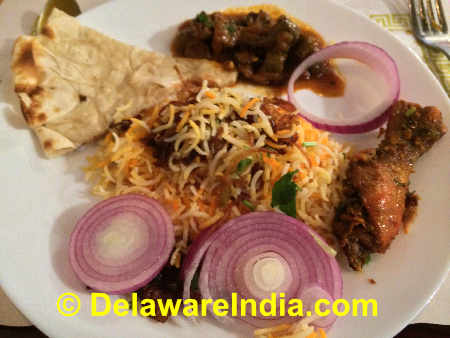 Underwhelming Dum Biryani
Hyderabad Dum Biryani is an Andhra restaurant's signature dish and you're
verboten
to go wrong with it at the pain of eternal damnation.
Both Dum Biryanis at
Godavari
were under-spiced, under-flavored and
mucho
underwhelming.
But the Chicken Dum Biryani experience was also bizarre. I spotted a full container at the buffet station but it disappeared a couple of minutes later only to reappear after 20 minutes as I was nearing the end of my meal. Strangely, the chicken pieces in the Dum Biryani were hot but the rice itself was barely warm suggesting a mishap in the kitchen.
Dum Biryani was merely one of many disappointments I encountered at
Godavari
.
Minutes into my meal, one of the pleasing waiters sauntered over and solemnly informed my buddy that Plain Naan, Butter Naan and Plain Dosa were part of the buffet and asked for our preferences. Since good Indian restaurants serve fresh, hot Naans at the table and Dosa is often a part of South Indian buffets, I was delighted. We opted for Butter Naan and Plain Dosa.
Alas, neither the Butter Naan nor the Dosa ever showed up.
Instead, we saw a travesty of a Naan and a mini Uttapam at the buffet station for a few brief moments. As more diners walked in, the Naan pieces and the mini Uttapams were quickly snapped up and we never saw them again despite multiple visits to the counter.
As we were in the middle of our lunch, the same waiter came over and mumbled that Naan would not be served at the table and instead be available at the counter. No mention of the Dosa was made.
An Indian restaurant that fails to serve fresh, hot Naan at the table is beseeching the
Gods
for a premature demise.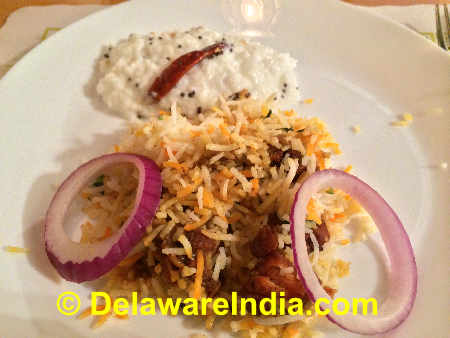 Lunch Buffet
Godavari's lunch buffet ($11 on week-days) was a crowded affair since the restaurant is new.
Unlike North Indian restaurants, South Indian restaurants tend to attract fewer Americans and mostly South Indians. We heard several diners speaking either Telugu or Tamil.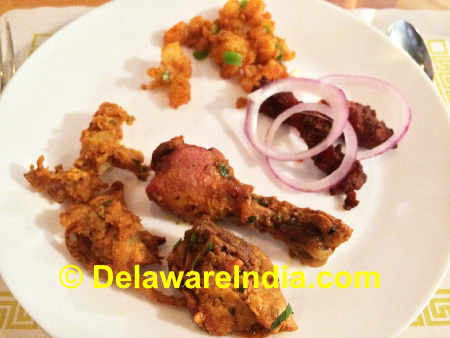 During my visit, the spread included Baammagari Pappu (Grand Mother's Mango Dal), Gongura Kabab, Godavari Rasam, Chennai Sambar, Onion Pakoras, Fish Fry, Chicken Curry, Bengaluru Bendi Pulusu, Godavari Payasam, Modi Masala Chai etc.
While the spread is not anemic, it is definitely
not generous
for the price. For a truly generous lunch buffet spread in Delaware, visit any Chinese Buffet in Wilmington/Newark or
Old Country Buffet
(on Churchman's Road in Newark).
Many items at Godavari's buffet counter sported Indian names to provide an emotional connection to the South Indian states.
Except for the Gongura Kababs, the other appetizers were just
meh
. Even the Gongura Kabab was barely warm. Obviously, no one cared to check if the burner below the vessel had gone out.
Worthy Stuff
Now and then
Godavari
redeemed itself admirably.
Bengaluru Bendi Pulusu was the work of a
Dali
in the kitchen.
Tangy, spicy and extremely flavorful, it appealed to my South Indian taste buds.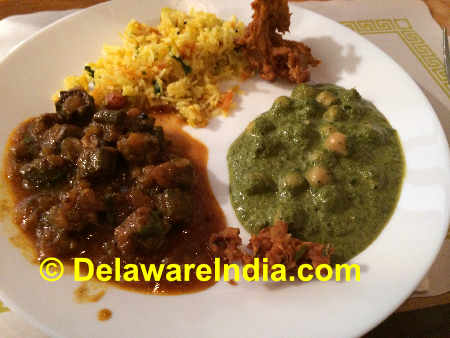 The spicy Chicken Curry was another fine item to drool over, the best I've had at a Delaware Indian restaurant in nearly two decades. It took a Herculean effort to restrain myself from rushing into the kitchen and smothering the chef with kisses.
Baammagari Pappu (Grand Mother's Mango Dal) was flavorful but did not do merit the label since it was not sour or tangy like the real deal.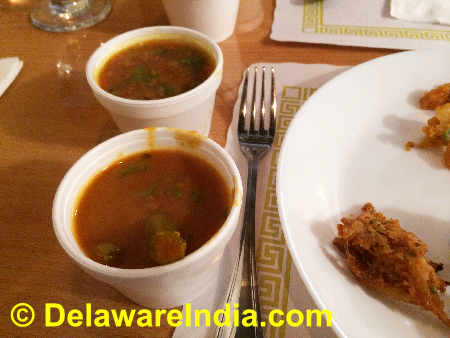 Thick, spicy and finely aromatic, Chennai Drumstick Sambar was clearly a big plus.
Channa Saag was creamy and mildly spiced; Green Beans-Chick Peas Poriyal was slightly sweetish with fresh grated coconut flavor. But neither of them were the stuff to launch even a few ships let alone a fleet of 1,000.
Besides Dum Biryani, Godavari's lunch buffet included three other rice dishes - Carrot Rice, Yogurt Rice and Steamed White Rice.
Carrot Rice looked like Aishwarya Rai. What a pity, the looks failed to translate into a tasty dish.
Yogurt Rice was unmistakably put together by a harried cook in a rush to get it out. Not in the least flavorful.
To add insult to injury, it was way too
cooold
. Colder than even the Fruit Custard laid out at the adjacent table.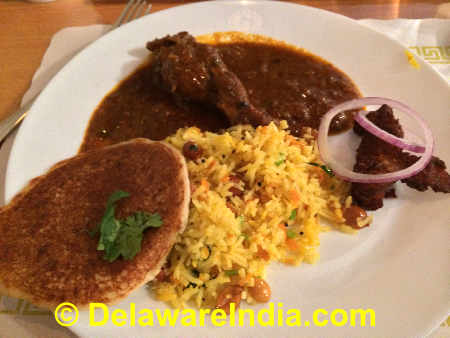 Plain Uttapam was hot but nothing to write home about.
The three Chutneys (Tomato, Dal & Peanut & Coconut) failed at a basic level - Not spicy enough for South Indian palates and cooold.
The only piece of Naan bread we could lay our hands on was rubbery. No hint of butter.
Naan bread
must
be served piping hot from the
Tandoor
at the table, never dumped in a heap at the counter.
Desserts & Beverages
Modi Masala Chai was a delight.
Hot and flavorful.
I could drink gallons of this fine
chai
if only it did not come in that scary styrofoam cup.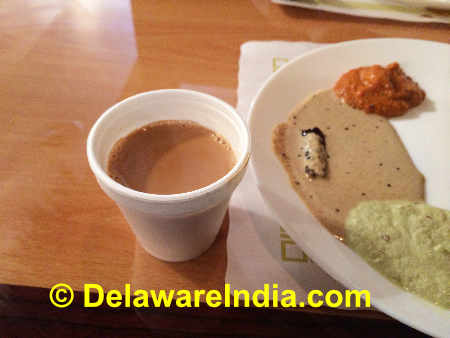 Fruit Custard packed a chemical flavor and was not cold enough.
Godavari Payasam was hot, rich with Cashew Nuts and Raisins and just the right amount of sweetness.
A tad more ghee would have lifted this delightful Andhra treat to soaring heights.
Again, I felt uneasy eating this piping hot sweet from a styrofoam cup.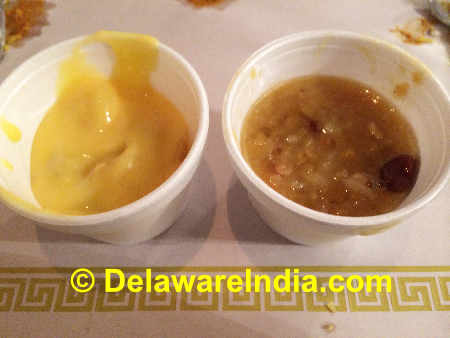 Uneven Food & Service
Godavari suffers from the same virus plaguing most Indian restaurants -
Uneven Food Amplified by Indifferent Service
.
Instead of checking the empty vessels and replenishing them, a gaggle of waiters were chatting near Godavari's cash counter.
Popular items like Dum Biryani were huge letdowns although Rasam and Chicken Curry were exceptionally good.
An Indian restaurant that does not care to replenish empty vessels at the buffet counter promptly is unworthy of diners' patronage.
As the minuses kept piling up at
Godavari
, I felt like Theremon waiting for
totality
inside the dome at Lagash (Hint: Isaac Asimov). Fearful over the growing darkness, I shrank into my seat.
Godavari Rating
Godavari's
repeated stumbles had me thinking of Gerald Ford. Is this the kind of
President
South Indian restaurant we really want in Wilmington?
For $11, the Indian restaurant's lunch buffet spread is not generous by the standards of American or Chinese buffets.
At first glance,
Godavari
looked like a South Indian restaurant with the potential to shake up the below-par Indian dining experience in Delaware.
But the initial impression quickly faded and collapsed under the weight of
Godavari's
many missteps.
Godavari
is a depressing instance of
harakiri
by the restaurant's management or, to use a cricketing analogy,
hit-wicket
.
When I left
Godavari
there was plenty of light outside on Kirkwood Hwy but I felt a disturbing Asimovian
Nightfall
creep on my shoulder.
"
The long night had come again
." - © DelawareIndia.com