Delaware Hindu Temple Canteen Hockessin
Mahalakshmi Hindu Temple Canteen: A Disgrace
Of the many American Hindu Temple canteens we've blessed with our presence,
Mahalakshmi Hindu Temple of Delaware Canteen
on Yorklyn Road in Hockessin serves the worst food.
Familiar Terrain
No strangers to temple canteens in the U.S., we've had Temple Canteen food previously at
Flushing Ganesh Temple
in NYC,
Shiva Vishnu Temple
in Lanham (MD),
Pittsburgh Balaji Temple
, Chicago Balaji Temple and Rama Temple. Each visit was most satisfying.
So when we heard the
Mahalakshmi Hindu Temple of Delaware
had opened Canteen services over weekends, we rushed there with mucho anticipation.
Except the Dosa, all other items at the
Delaware Hindu Temple
come prepacked in small boxes. Dosa is prepared fresh.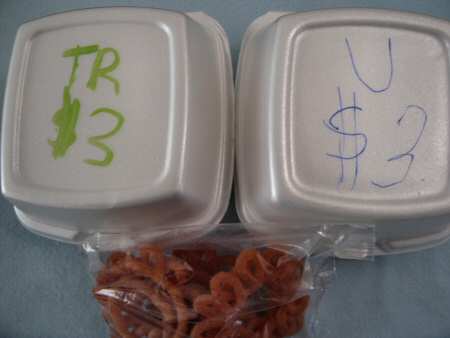 Tamarind Rice ($3) and Upma ($3) Boxes
You pay cash at the counter, pick up the boxes along with a chutney cup, grab Sambar from a vessel in a corner, find a chair and sit at one of those dirty tables to eat. You do not get any receipt for payment.
Idli (2 pieces), Vada (2 pieces), Upma, Tamarind Rice are priced at $3.00 each, the Masala Dosa was $5.50 and Coffee cost us $1.00.
Most of the food we tried at the Hindu Temple DE Canteen was disgustingly bad and should not have been offered to dogs let alone devotees. Sole exceptions to our horrible meal were Sambar and Chutney.
Mahalakshmi Temple Canteen - Tamarind Rice with little taste of Tamarind
Tamarind Rice, a South Indian delicacy, was blackish yellow and had no evidence of Tamarind used in its preparation.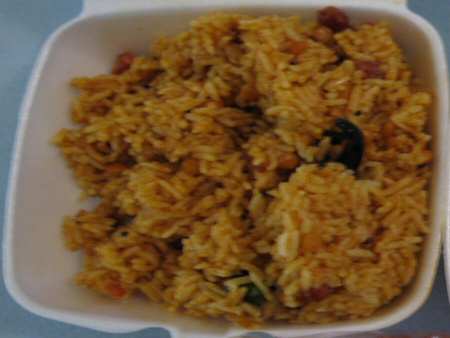 Bad Tamarind Rice
The quality of the rice was poor and there were clumps of white rice, a clear suggestion that it had not been mixed properly. Peanuts in the Tamarind Rice had a burnt flavor and smell. Overall, it was one of the crappiest Tamarind Rice we've tasted.
Cold Idli, Mislabeled Vada
Idli was cold but soft. Mercifully, the Chutney was flavorful and fresh. Not one of those ice-cold abominations they serve at most Indian restaurants in the name of Coconut Chutney. The warm medium thick Sambar with beans, capsicum and onion was flavorful and amply made up for the cold Idli.
When we paid for the Vada we thought we would get Medhu Vada with green chilli, cilantro, black pepper seeds seasoning.
But what do we know!
The box labeled Vada actually contained Alu Bonda. We cursed the Canteen staff for their carelessness and took a bite into the Alu Bonda. While the Alu Bonda was alright, we like to get what we paid for.
Soggy, Pasty Tasteless Upma
Upma turned out to be another disappointment. Because what we were served in the name of Upma was a pasty Semiya Bath with vegetables.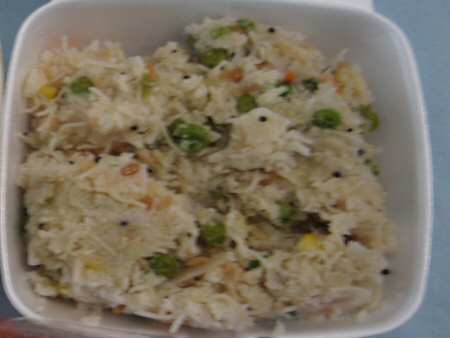 Soggy Upma
The Semiya Bath was so pasty and tasted so awful as if the Bambino Vermicelli, Corn, diced Carrot, Green Peas were all boiled together in water and rushed out.
There was no evidence of any green chilli or curry leaves seasoning being added to to this South Indian delight. What made the Semiya Bath/Upma all the more inedible was that it was cold.
Hindu Temple Canteen - Soft, Smelly, Oily Masala Dosa
Masala Dosa came hot as it was made to order unlike other items. That is all we can say in its favor. It had a soft texture like a pulka and had a weird smell. Potato filling inside the Dosa was soggy and had no taste. Again, it was the flavorful Chutney and Sambar that performed the rescue act.
Dry Jangir, Disgustingly Bad Coffee
As if our woes with Idli, Tamarind Rice, Upma and Dosa were not bad enough, our Jangir and Coffee also turned out to be hopeless. No relief, folks. None at all.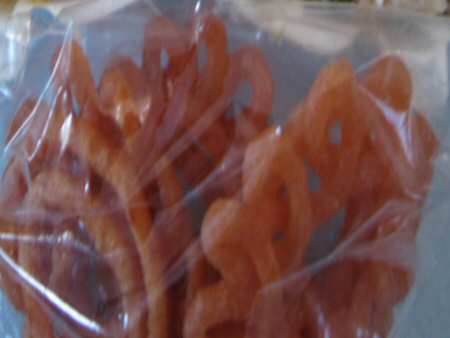 Stale Jangir
You see, the Jangir was so dry as if it had made contact with sugar syrup only in its earlier incarnation. As if the dry texture was not vexing enough, Jangir also turned out to be stale. If you are hankering for goody Jangir, we recommend you make a trip to Flushing Ganesh Temple Canteen in NYC that sells decent quality Jangir, Laddu and other South Indian snacks.
When we paid for the Coffee we hoped to get freshly prepared filter Coffee like you get in Flushing Ganesh Temple or Chicago Balaji Temple or Pittsburgh Balaji Temple.
The little kid at the Delaware Hindu Temple counter (five or 6-years old) handed us a styrofoam glass and another little girl pointed to a flask near the Sambar counter.
We toned down our expectations for a flavorful Coffee and pressed the Flask top. Instead of the Coffee what we got was hot water. We quickly realized the cruel hoax the Hindu Temple of Delaware Canteen had played on us.
The Temple canteen fellas had placed Folgers Instant Coffee Powder, Coffemate Creamer and Sugar by the flask and charged us $1 for that bilge.
Dirty, Disorderly Tables
As if the bad food were not punishment enough, it was distressing to see dirty canteen tables with leftovers from previous diners. Also, there was chaos in the dining area with some temple volunteers moving tables to the dais literally on top of the heads of diners without any regard to the fact that they were eating.
Disgusting Experience
Bottom Line, our meal at Mahalakshmi Hindu Temple DE Canteen was a Katrinaesque disaster.
Don't even consider visiting that dump.
2014 Update
Following a request from the Delaware Hindu Temple for another review, I recently visited the place in Hockessin. Unforunately, it happened to be on a week-day and the Canteen was not open.
So I ended up purchasing a packet of Laddu and Mixture for $3 each as those were the only items available.
Here is my take on the Hindu Temple snacks starting with Laddu:
Bad Laddu
Laddu is a popular sweet offered as prasad in most South Indian Hindu Temples.
Laddus available at Hindu Temples like the famous Tirupati Temple are different from the ones peddled by restaurants or sweet shops.
Temple Laddus are usually bigger, possess a fine flavor and pack a strong smell of yellow camphor. They're a delicious mix of motichor with dry grapes, and cashew nuts soaked in sugar syrup.
I've had Temple Laddus on countless occasions, both in India and in the U.S. In India, I've treated myself to Tirupati Temple laddus both at the temple town and when friends or family got them for us.
In the U.S., I've enjoyed Laddus at Flushing Ganesh temple, Pittsburgh Balaji temple, Bridgewater Venkateswara temple, Lanham Siva Vishnu temple etc.
They were all delicious.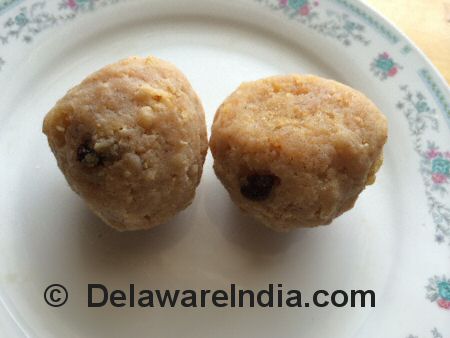 Bad Laddu - $3
Alas, to my great misfortune the Delaware Hindu Temple Laddus turned out to be a big disappointment.
Of the various Temple Laddus I've had in a long life, the ones peddled by Delaware Hindu Temple are easily the worst. An absolute disgrace!
Delaware Hindu Temple canteen Laddus were low on sweetness, included few raisins, two tiny pieces of cashew and packed only a faint flavor of yellow camphor.
Not only did the Delaware Hindu Temple laddus lack the flavor of good Temple Laddus, they were worse than the Laddus you find in the coolers of Indian grocery stores in Delaware or Edison.
If God knew about the trashy Laddus the folks at Delaware Hindu Temple are doling out to devotees for $3, he'd heap vile curses on the temple management.
Stale Mixture
If the Delaware Hindu Temple canteen Laddu was bad, the mixture was awful.
Mixture is a spicy accompaniment to food items like Bisi Bele Bath or beverages such as coffee.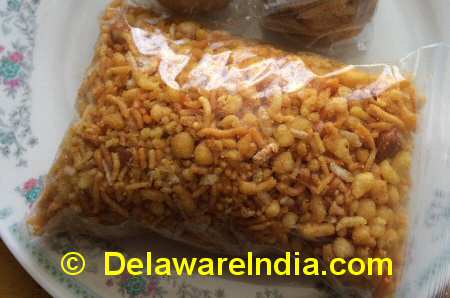 Stale Mixture - $3
The temple Mixture was low on salt, low on chilli powder, lacked curry leaves seasoning, had too few peanuts and I could not find any trace of cashew nuts.
Worse, it packed the smell and taste of cheap or recycled cooking oil and was stale.
If you love temple snacks and food, I recommend you make a trip to Flushing Ganesh temple canteen in NYC or Bridgewater Venkateswara temple canteen in New Jersey.
As for the Delaware Hindu Temple canteen, forget the prasad and food. Go only for blessings of Goddess Mahalakshmi. - ©
DelawareIndia.com